An overview of kinesiology tapes.
Everything you need to know about kinesiology tapes and its uses – at a glance.
On this page, we answer general questions about kinesiology tape, the right way to use kinesiology tapes, their function, and potential areas of use and application.
What is kinesiology tape?
Kinesiology tape, also known as elastic therapeutic tape or K-Tape is lengthwise elastic adhesive tape consisting of a carrier material made of textile fiber and a layer of acrylic adhesive. The main carrier material is usually cotton. Tapes that have been specifically developed for sports applications, such as TRUETAPE, are specially made with a more elastic and thinner rayon material.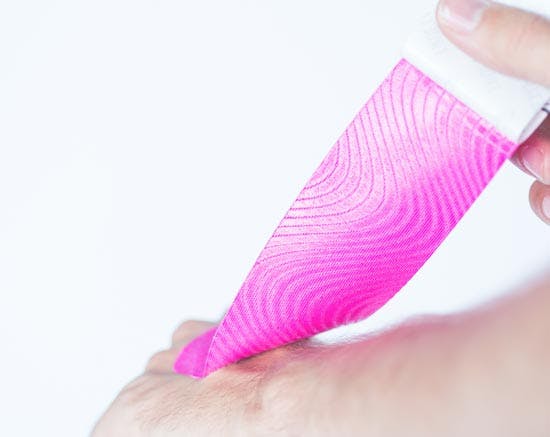 The acrylic adhesive is applied to the tape in a wavy structure. When applying the tape, the lengthwise stretch ensures that the tensile force is also translated into a smaller diagonal force, which means that the tape can lightly move the skin in all directions. Acrylic adhesives are also the standard material for medical products that stick onto the skin, such as Band-Aids and bandages. Our tapes are latex-free with an adhesive that has been tested for great skin tolerance.
Kinesiology tapes can be used on the skin for several days on end, and will stick for between 2 and 7 days, depending on the area of the body and the quality of the tape. Tape is used to treat various problems, and injuries of the musculoskeletal system.*
Advantages/differences compared to conventional taping
Kinesiologic tapes offer clear benefits over conventional (sports) tapes, with obvious differences in their form and qualities. As a result, their range of application is also different. Inelastic, rigid tapes such as Leukotape are primarily designed to provide relief to joints and joint areas through mechanical stabilization; kinesiology tapes on the other hand are designed to allow the greatest possible functional movement of the joints. The application of kinesiology tapes is intended to promote functional body movement at an early stage during or after injuries, as clinical studies have shown that this results in faster and better healing.
Rigid, inelastic tapes fix joints in a certain position, which might restrict circulation and blood flow in the treated part of the body. These tapes cause a relatively rapid decrease of muscle mass in the affected joint, which means that they aren't intended for regular use. When fixing a joint in a certain position, it can be observed that the muscle mass, and therefore the optimal future function of the joint, decreases with time. After immobilization of the joint, this muscle mass must be built up again.

Some further benefits of kinesiology tapes are, extended durability, a very pleasant wearing experience without restrictions to movement, and harmless self-application. Thanks to the tape's elasticity, it is highly unlikely that applying the tape "wrongly" leads to lasting injury to vessels, nerves, ligaments, tendons, or muscles. The application of rigid and inelastic tapes presents greater risks. If the tape is applied too firmly, this might restrict blood circulation or result in nerve irritation.
What is the difference between various types of kinesiology tape?
The various kinesiology tapes primarily differ among each other because of the quality of the components, such as the carrier material, adhesive, coloring agents, elasticity, and the length and width of the tape design. A standard roll of kinesiology tape measures 5 meters in length with a width of 5 centimeters.
Other available widths are 2.5 cm, 3.75 cm, 7.5 cm, and 10 cm. Narrow tapes (width of less than 5 cm) are primarily used to treat smaller joints, such as the finger joints, as well as small muscle groups. Kinesiology tapes with width of 7.5 or 10 cm are both used for application on large muscles of the thigh or back, as well as in veterinary medicine (particularly to treat large animals such as horses).
In addition to rolls sold by the meter, pre-cut tapes are also available. At TRUETAPE, we primarily use pre-cut lengths of 25 cm. Individual strips can be torn off the roll directly, without using any tools.
All tutorials and taping applications have been specially developed for use with our pre-cut strips. You can find our free video and photo tutorials in the Tutorials section.
Other tape designs include the so-called lymph tapes or edema tapes, which consist of several smaller strips with a common base. Lymph tapes resemble a large fan.
Kinesiology tapes come in many different colors. TRUETAPE is currently available in blue, black, green, and beige. The color of the tape does not influence its qualities such as its elasticity, durability, or adhesive properties. At TRUETAPE, we feel that everyone should be able to choose the color they like, with tapes for universal use.
Another important distinctive feature of kinesiology tape lies in its exceptional elastic properties. The greater the elasticity of the tape, the higher the wearing comfort – and therefore, the longer its wear duration. If a kinesiology tape is not elastic enough, the ends of the tape might start to detach significantly more quickly. This reduces the wearing comfort and might lead to a greater experience of restriction during sports or daily activities.
We therefore developed our TRUETAPE with an elasticity (stretch) of 180–200%.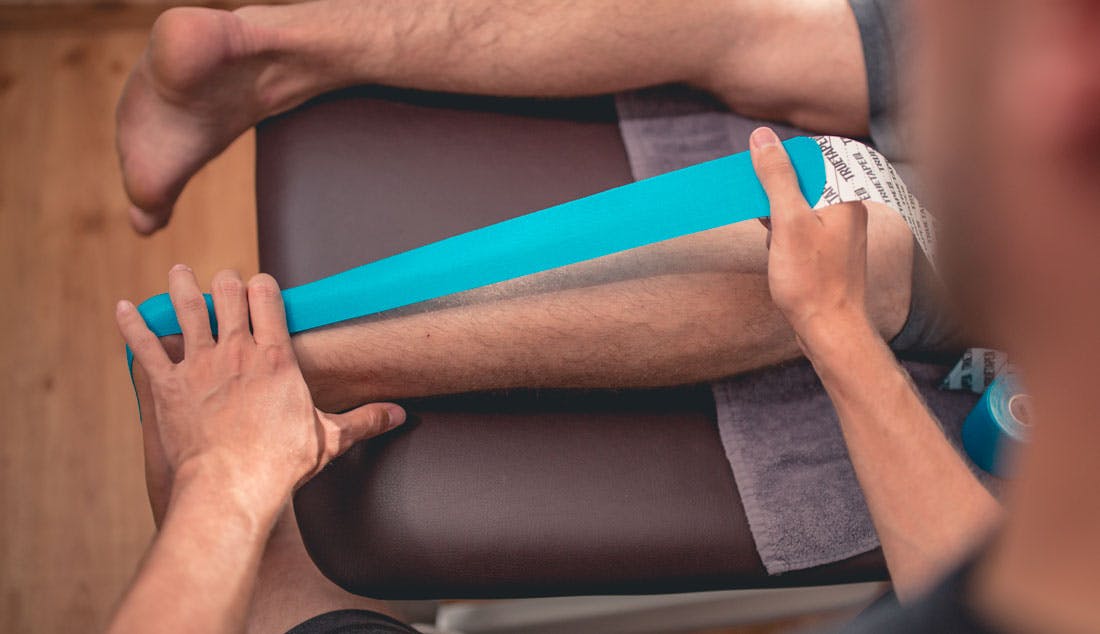 Areas of use/application and indications of kinesiology tape
When is kinesiology tape actually used?
Kinesiology tape has a diverse range of use and application, which has continuously been developed over the years. Kinesiology tapes are used for problems/injuries such as*:
Muscle injury
Muscle tension
Joint complaints
General and non-specific musculoskeletal pain
Irritations of tendon insertions
Ligament injuries
Arthrosis
Sports injuries
Back pain
Poor/incorrect posture
Lymphedema
Bruising
Stabilization
Injury prevention
Fascia corrections
Scar treatment
Blister prevention*
Some examples of specific taping indications are:
Treatment of pulled muscles and torn muscle fibers
Runner's knee + jumper's knee
Shin splints
Inflamed Achilles tendons
Ankle joint injuries
Tennis elbow
Shoulder impingement
Plantar fasciitis
Neck strain
Bruised ribs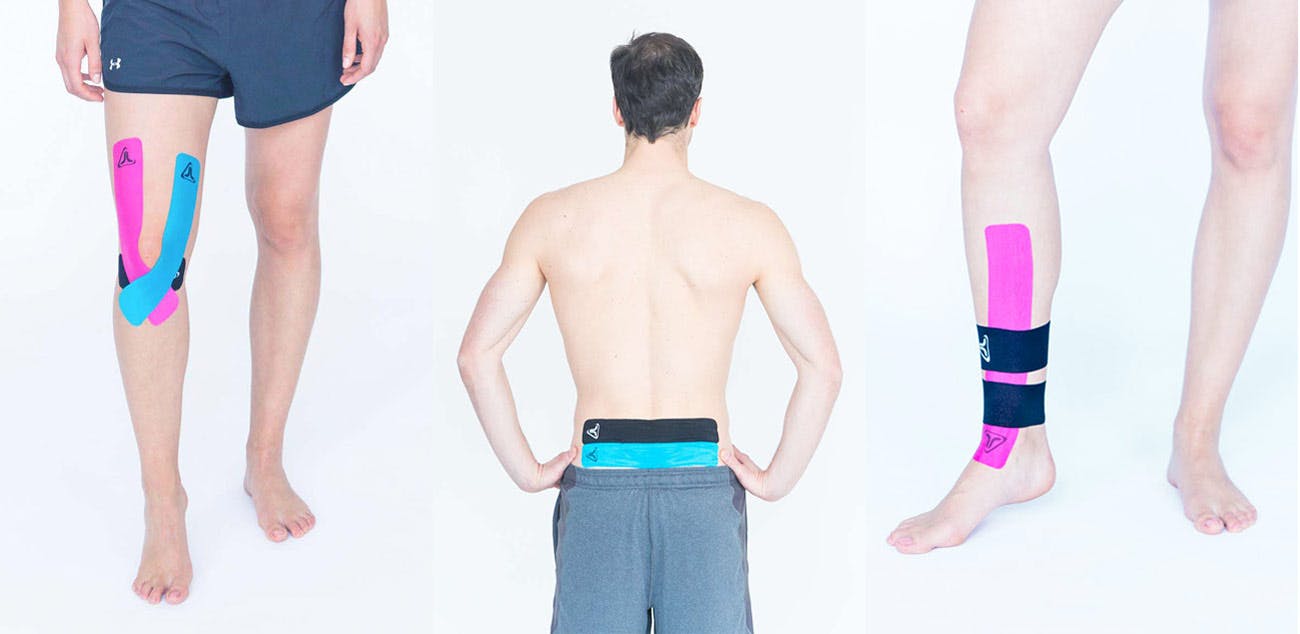 *The assumption of efficacy is based on putative trends in clinical studies, many individual case reports, and the experiences of doctors and therapists. The effect of the tape is not considered scientifically proven. Its mechanism of action still remains hypothetical to date.
When should kinesiology tape not be used?
Clear contraindications for kinesiology taping are:
Taping over open or inflamed wounds
Scars that are still healing
Allergies to acrylic adhesives
Thin or parchment-like skin
Pregnancy: especially in the 1st trimester
Taping procedures at a glance
There are several circumstances to consider while taping, to ensure efficient tape application. It boils down to using the right technology as well as applying the tape on the skin in a manner befitting the underlying problem.
Essentially, a distinction is made between four types of kinesiology tape application:
Muscle applications
Ligament applications
Lymph applications
Corrective applications
Depending on the underlying taping procedure, tapes of various tensile strengths and cuts are used. Muscle applications are usually taped at little to no tension, whereas ligament applications are taped with a strong stretch over tendons or ligament structures. For our  TRUETAPE applications, we mostly use taping procedures intended for muscles, or a combination of procedures for muscles and ligament structures.
Correctly applying kinesiology tape – find the suitable tutorial
Laypersons and others without excellent training in the human anatomy should always follow professional tutorials to prevent errors and unnecessary taping.
At TRUETAPE, we offer over 40 free taping step-by-step video and photo tutorials for taping, in addition to our first-class products. You can always rely on professional support for the most-common injuries and symptoms. All tutorials and applications were developed by doctors and physiotherapists.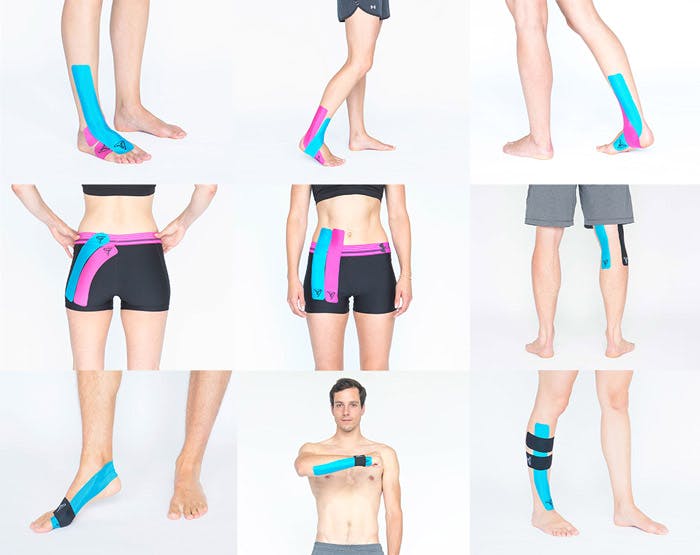 Helpful application tips to get the perfect taping results
To get the best-possible taping result and apply the tape in a durable manner with great wearing comfort, you should take several other things into consideration.
Our kinesiology taping tips for you:
The skin should be dry and free of dirt, oil, creams, and lotions prior to application.
Kinesiology tape should always be applied to the body at least 1 hour, but optimally 2 hours before any sports activity.
The easiest way to remove the kinesiology tape from its backing paper is by slightly tearing the paper from the side to then uniformly tearing away the tape. This will tear the paper across its entire width and loosen it from the tape. You can then fold and grip the tape without touching the adhesive surface.
Always make sure the ends of the tape are not under tension when sticking onto skin. The beginning of the tape is also called the base, and the end of the tape the anchor.
With excessive body hair, it might be necessary to first shave the areas to be taped or use a trimmer to ensure the tape sticks better.
After applying the tape, the tape should be smoothed outwards, starting from the inside edge, with a flat hand to activate the adhesive.
The tape should never be applied to damaged skin.
TRUETAPE and many other kinesiology tapes are waterproof. One can also bathe or shower with the tape. Wet kinesiology tape is best dried by thoroughly dabbing it with a towel. The tape usually dries up completely in a short time. Vigorous rubbing action may cause the ends of the tape to roll up and should therefore be avoided.
When applying the tape, it's best not to touch the adhesive surface.
Take care to make sure there are no wrinkles in the tape or the skin underneath the tape, as this may cause blisters and irritations of the skin. An effective way to prevent this is by carefully tightening the skin and then carefully sticking down the tape.
The tape should be removed from the skin without jerking or excessive force. The gentlest way to remove the tape from the hairs and skin is to slowly and evenly tear it off at a flat angle. When applied on particularly elastic skin, it might help to tighten the skin near the tape with the other hand.
Always keep the recommended stretch/tensile strength in mind when taping. If the tape is applied with far too much tension it might restrict movements, be uncomfortable to wear, and damage the skin.
If you need to cut the tape to size, it is important to always round off the edges.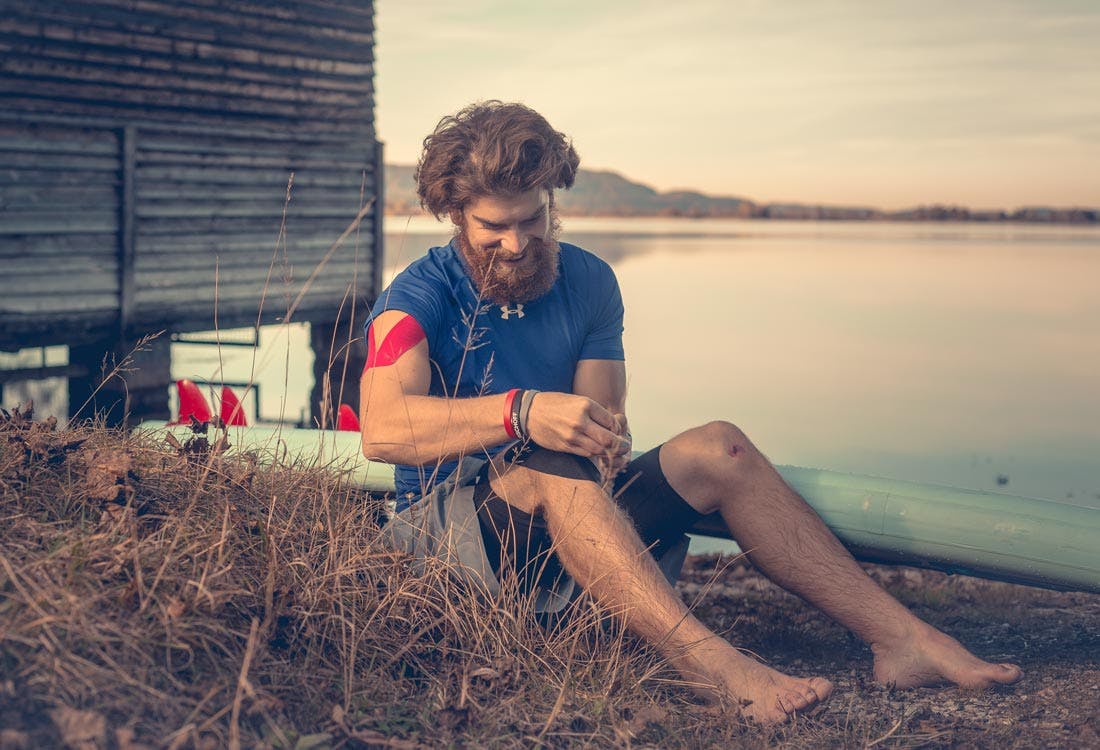 A selection of scientific studies on kinesiology taping
* PLEASE NOTE: The examples of application and explanations on the effect of the tape are not based on medical studies. The effect of the tape is not considered proven. The statements and articles are based on many years of subjective experience and application reports from customers, patients and trained therapists. The information on this page is not intended to be a substitute for visiting a doctor, physiotherapist or other expert.